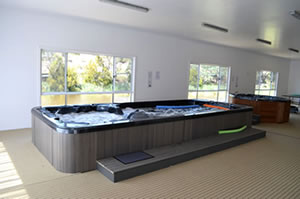 There are many facilities for you to enjoy at the Clubhouse and the Pool/Spa complex.
The Clubhouse is surrounded by a magnificent bowling green, outdoor covered barbecue and
seating areas.
There is special provision on site for caravan/boat/trailer parking as well as a comprehensive community workshop fully equipped with the latest tools.
You can also have high-speed internet and Pay TV connected to your home.
The Pool/Spa complex includes a heated swim spa.

Within the Clubhouse there are numerous facilities for you to enjoy including:
Billiards, snooker or pool tables
Pay television
Dancefloor with entertaining areas
Home theatre with a with a selection of DVDs
Kitchen with refrigerator, oven and microwave
Computers with high-speed internet
Visiting consultants' room (for hairdresser, massages etc…)
Library with good selection of books and magazines